The episode with the three-breasted woman, Mary, in the cult film "Total Recall" in the early 90s deeply resonated with both adult and younger science fiction enthusiasts.
Paul Verhoeven's film was revolutionary for its time, and it rightfully won an Oscar for its visual effects. Most of the special effects in the movie were groundbreaking. The poly-breasted beauty was no exception.
Contrary to popular belief, as Verhoeven later explained, there was very little computer graphics used in the film. Almost all the scenes, except for the passenger screening scene in the X-ray room, were the result of painstaking work by visual effects specialists who manually created sets, costumes, and props. This also applied to Mary's breasts.
To create realistic shapes, artists made foam prosthetics with water-filled bubbles attached, colored to match the skin tone. The materials used were primitive, but the on-screen effect exceeded all expectations.
Mary was played by a dancer and aspiring actress named Lycia Naff, who was 28 years old at the time. Lycia's preparation for the short scene took eight hours.
Shortly after the film's release, Lycia suddenly became incredibly popular among male audiences. She received a lot of fan mail, especially from prisons, but she never responded to any of them.
Furthermore, during a television show dedicated to the film "Total Recall," the host, Johnny Carson, made unwelcome advances towards Lycia, which she later revealed.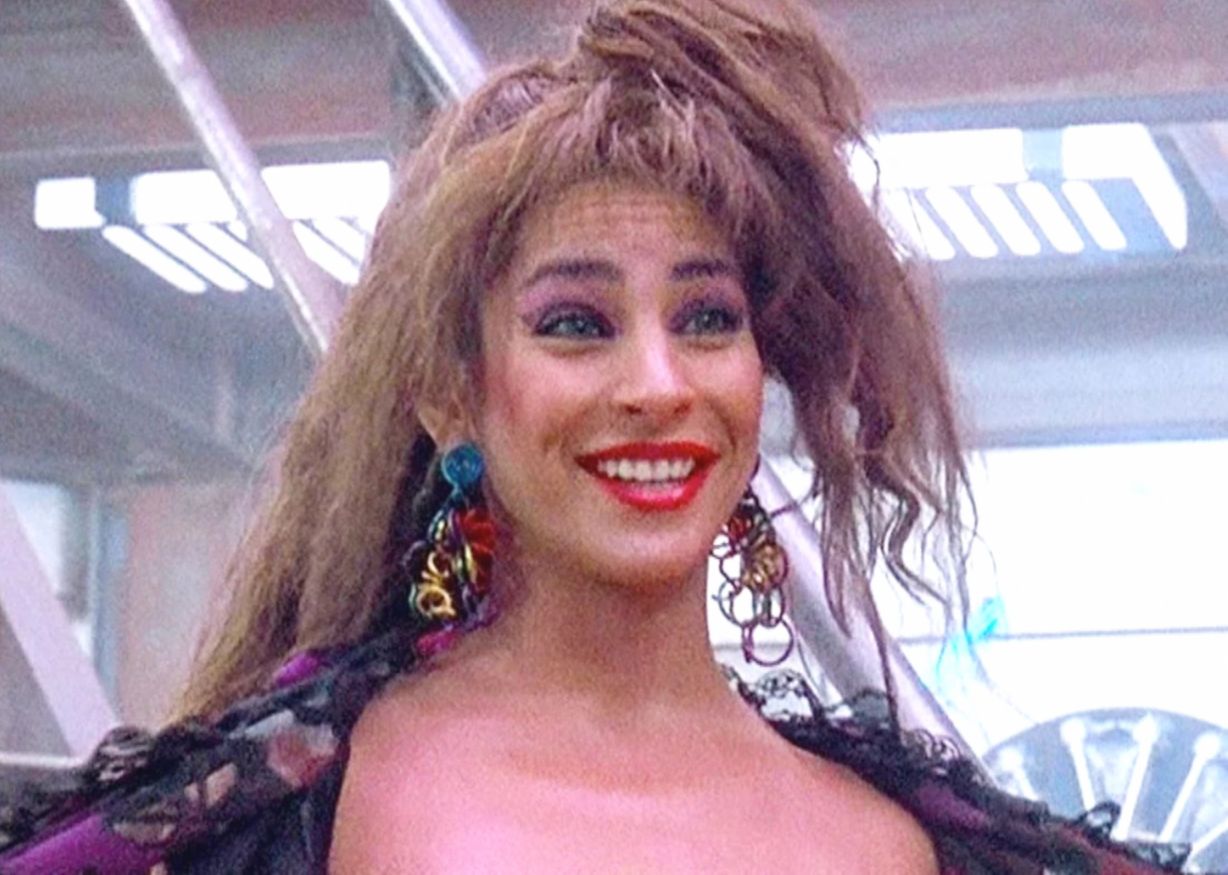 During numerous television interviews, Lycia shared interesting insights about the making of the film "Total Recall." According to her, Verhoeven initially planned to create a four-breasted woman, but this idea was discarded to avoid associations with a cow.
The most challenging part for Lycia Naff was overcoming her shyness in front of Arnold Schwarzenegger, whom, as she said, all the women on set were somewhat infatuated with. Revealing her artificial breasts repeatedly in front of Arnold was awkward, she admitted.
Before her breakthrough in "Total Recall," Lycia Naff had made appearances in small roles in films like "Clan of the Cave Bear" and "Lethal Weapon."
Despite the sudden fame, Lycia hoped for offers from directors, but unfortunately, they never came. Her last appearance on the big screen was in 1991, with a small role in the little-known American comedy "Chopper Chicks in Zombietown."
Subsequently, Naff made a decent career on television, appearing in series like "Law & Order," "Sanctuary," "Without a Trace," and "Ghost Whisperer."
Lycia also made a mark in journalism, creating a documentary about women's issues in Hollywood.
In the 2000s, Lycia Naff worked as a reporter and was published in magazines like Vogue, People, and OK!. She also served as an editor for the Miami Herald.
As of now, Lycia Naff is 60 years old. Her most recent screen appearance was in 2021 when she played Captain Sonya Gomez in the 10th episode of the second season of "Star Trek: Lower Decks." It's worth mentioning that she looks stunning for her age.
However, for most science fiction film enthusiasts, Lycia Naff remains the woman from "Total Recall."